SERVICES
GALLERY
VIDEO
Contact us
Welcome to Solvang Nail & Spa Salon in Solvang, CA 93463!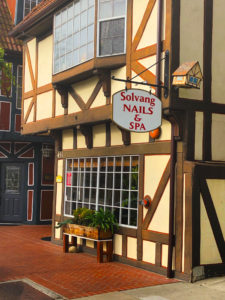 Solvang Nail & Spa Salon, located at 451 2nd St Ste E, Solvang CA 93463, has become the best well-known salon in this town.
We take pride of providing you with all good products which come from famous brands and qualified services to help you rejuvenate your beauty. At Solvang Nail & Spa, you can find all your needs with a variety of services such as: Acrylic, Manicure, Pedicure and more. Our professional staff also pampers you from head to toe, brings you new interesting experiences.
Customers' cleanliness and safety will be guaranteed at our salon because all the products used at our salon are disinfected carefully after every use. Especially, we also offer personal liner for each pedicure chair. A sanitary and lavishly decorated environment will be an ideal destination for you to escape from all the stresses, enjoy your most precious moment.
Welcome to Solvang Nail & Spa Salon, where you start holding your own beauty!
Hours
Monday – 10:00AM–5:30PM
Tuesday – CLOSED
Wednesday – 10:00AM–5:30PM
Thursday – 10:00AM–5:30PM
Friday – 10:00AM–5:30PM
Saturday – 10:00AM–5:30PM
Sunday – 10:00AM–5:00PM
Click Image for a larger menu